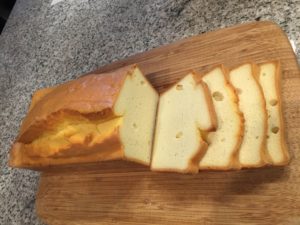 This white bread is a true wonder! It's delicious, toasts up great, keto, and holds together even better than bread made with gluten (like that "Wonder Bread" brand garbage), so it's perfect for sandwiches, hamburger buns, and more!
3

 c

ups

 Almond Flour  
12 l

arge

 

eggs,

 s

eparated

 1/2 cup melted b

utter

 (Kerrygold is best)
2 

Tablespoons

 b

aking powder 

 

1/2

teaspoon c

ream of tartar

1 teaspoon

 

salt

1 Tablespoon stevia glycerite
Instructions:
Preheat oven to 375 degrees.

Separate the egg whites from the yolks. Add cream of tartar to the whites and beat until soft peaks are achieved.

In a food processor, combine the egg yolks, butter, almond flour, baking powder and salt. Mix until combined. This will be a lumpy thick dough until the whites are added.
Add 1/3 of the beaten egg whites to the almond flour mixture and process until mixed.
Add the stevia and remaining 2/3 of the egg whites and pulse-process until fully incorporated. Be careful not to overmix or the bread won't have as much volume!
Spray coconut oil in a 9×5 loaf pan and then pour mixture into pan. Bake for about 50 minutes. Check with a toothpick to ensure the bread is done.
Makes 20 slices
Nutrition facts per slice:
Fat 76%
Protein 15%
Carbs 9%